June- East Side Jive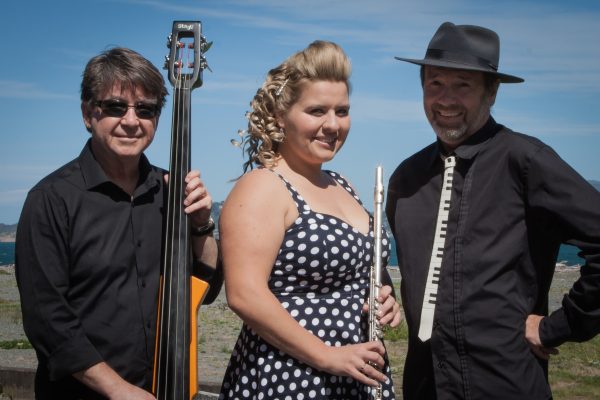 East Side Jive play swing, jazz, soul, blues, jive, and pop, with songs ranging from Peggy Lee to Led Zeppelin, Nat King Cole to The Dead Kennedys, The Beatles to Ray Charles, and many more to many more.
But not as you know them. Expect Alternative Versions – it's more fun that way!   
Fronted by Tineke Snow on vocals, flute, and percussion, with Jeremy Winter on piano and Murray Costello on bass. Tineke has sung with the Harbour City Showband, California Dreamers, Razaband and Brasso & Friends. Jeremy has mastered both the black and white keys in a variety of jazz, rock and funk bands, and Murray has twanged 4 strings for punk, pop, indie, urban folk,  Americana, Kiwiana, and country groups.
---
July - Come all Ye
We recently ran a survey to get feedback on how we run the club. Thanks to those of you who took part. One of the themes that came through was that budding musicians wanted more opportunity to get up and perform. As a result, we have scheduled an open-mic night for July in addition to our normal December night. This is the chance for any performer to perform two songs. We'll be asking people to put their names down nearer the time. Don't be shy - this is your chance.
Contact Mary (021) 023 14506 for more information.
---
September - Bob Cooper-Grundy, Neil Billington and Kate Marshall
---