May - Hobnail
It has been 23 years since Hobnail  (then Hobnail Boots) made their first tentative steps in the world. Rob Joass and Jo Moir had previously played together in the short lived Wild Blue Yonder, an acoustic folk/pop band influenced by the likes of Paul Kelly and The Go-Betweens (career highlight - opening for Suzanne Vega!)
Hobnail Boots was an altogether different animal, starting life as a party band playing celtic and country music, but always with a solid slice of original material thrown in. Finding their original material as popular with audiences as the cover versions, they started taking things a bit more seriously, recording and touring their own music. They were invited to play in North America on the back of their first 2 albums; "Deboot" (1996) and "Training at Altitude" (1998). Dates in England and Germany followed. Great gigs, great times.
June - East Side Jive
East Side Jive;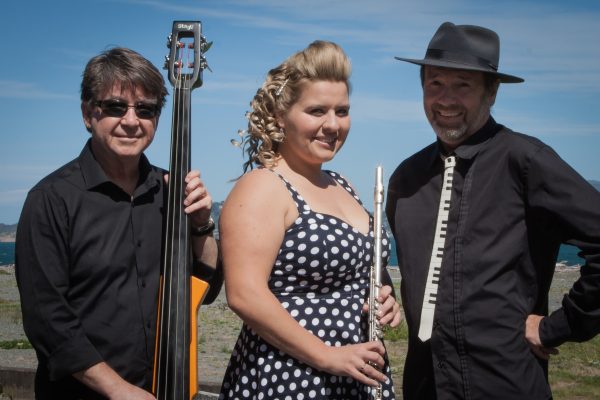 East Side Jive play swing, jazz, soul, blues, jive, and pop, with songs ranging from Peggy Lee to Led Zeppelin, Nat King Cole to The Dead Kennedys, The Beatles to Ray Charles, and many more to many more.
But not as you know them. Expect Alternative Versions – it's more fun that way!   
Fronted by Tineke Snow on vocals, flute, and percussion, with Jeremy Winter on piano and Murray Costello on bass. Tineke has sung with the Harbour City Showband, California Dreamers, Razaband and Brasso & Friends. Jeremy has mastered both the black and white keys in a variety of jazz, rock and funk bands, and Murray has twanged 4 strings for punk, pop, indie, urban folk,  Americana, Kiwiana, and country groups.
---