Like their music, Jack MacKenzie and Peter and Cathy Dyer are American born and bred.
Jack's flat-picking is inspired by Doc Watson and is featured throughout their set, including his instrumentals "Waterfall" and "Mac's Reel/Rangitikei Polka". He has picked with Doc and a host of other stars at McCabe's Music—the legendary venue Jack managed and performed at in Los Angeles from 1971 to 1980. Otherwise he keeps busy building his own line of Simian Ridge guitars.
Peter plays rhythm guitar and loves singing and yodelling Hank Williams and Jimmie Rodgers.
After years of listening to Peter and Jack play, Cathy finally added the big double bass and chimed in for three-part harmonies.
The Downunderdogs have been featured at Wellington Folk Festival, Kiwigrass Festival, the Auckland Bluegrass Club, and the Wellington Bluegrass Society and are delighted to announce their first CD!
Live at the Bottom of the Planet features eight originals and five covers of time-honoured Americana classics, with first-class flatpicking, stellar songwriting and heavenly harmonies. The CD includes two of Peter's best known compositions, "Go Ahead and Cry" and "The Immigrants Song."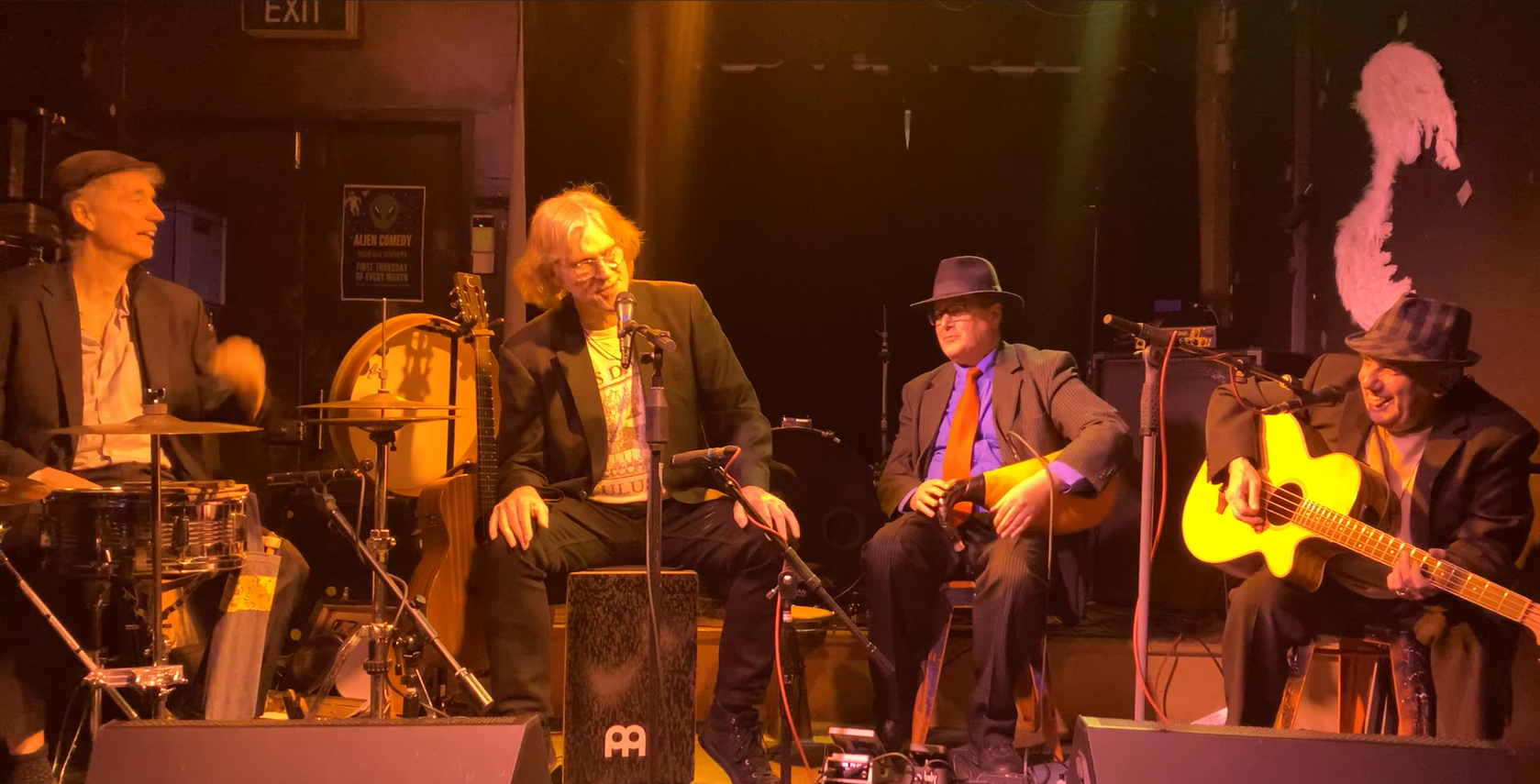 Planet
"Bagpipes, excitement and Rock n' Roll": words you don't often hear in the same sentence.
Planet mixes traditional bagpipe airs with post punk riffs and a dollop of vaudevillian good humour. It could be world music, it could be underground indie rock. It could be psychedelic folk music. But it's always approachable and certainly a lot of fun.
You're probably familiar with them as individual musicians. Nigel Parry is on voice, percussion and guitar. Barry Carter is on drums. John Gray is on bagpipes and Vince Cabrera is on bass.