August 11 2020: Kelburn Jug Band + Supports
The Kelburn Viaduct Municipal Ensemble Jug Band are:
Neil Worboys - Vocals, banjo, mandolin, blues harps, kazoo, jug, whoops
Carol Bean - Vocals, guitar, mandolin, hollers
Maurice Priestley - Vocals, mandolin, guitar, banjo, vocalisations, kazoo, jug, sounds
Bill Wood - Vocals, Tea-chest bass, dobro, harmonised vocalisations
Steve Carlyle - Vocals, guitar, washboard, tea-chest bass, squeeze box, harmonised vocalisations.
Kelburn Viaduct Municipal Ensemble Jug Band (KVMeJB) music is a mix of original songs, which intentionally and vaguely follow the styles of Robert Johnson, Leadbelly, the Jim Kweskin Jugband and other inspirational pioneers of blues and jug band music, and cover versions of the above-mentioned heroes.
The Kelburn Viaduct Municipal Ensemble Jug Band recorded its second album, featuring all original compositions by members of the band, in 2019. It will be released in August 2020.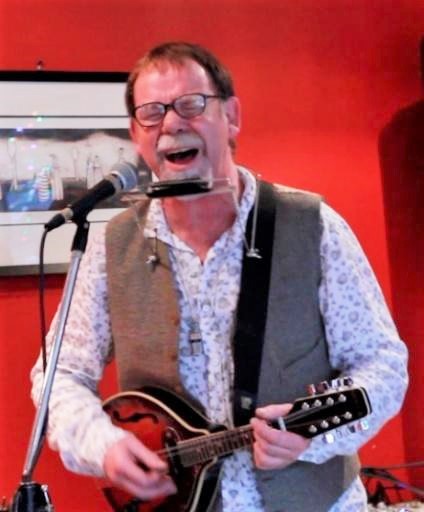 Neil Worboys
Neil began performing in bands and composing songs in Wellington in the early '70s and has been involved in New Zealand Pop / Rock and Roots music continually ever since.
Neil sang and played in jug bands initially, one of which, the Bulldogs Allstar Goodtime Band, became successful in the mid-1970s with New Zealand Top 10 hits Everyone Knows and Miss September. (Members of Bulldogs and Hogsnort Rupert - The Hogsnort Bulldogs Goodtime Band continue to perform to this very day!)
Neil continued to play jug band and roots music in the 1980s and early 1990s while living in Gisborne, teaming up with Maurice Priestley and Steve Carlyle in the Trizonal Space Warpers and The Customliners. Neil returned to Wellington in 1993 and formed the Wellington Heads, a jazz / rhythm n' blues band which also includes Bill Wood.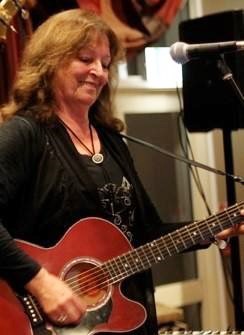 Carol Bean
Carol Bean is no stranger to the blues music scene. 2019 saw her performing with an assortment of musical collaborations at the Auckland Folk Festival, Coastella, and Cuba Dupa. Her favourite fun-time band is the KVMeJB!
Having grown up in California during the 60s, Carol aspires to replicate the spirit and fun of the old jug band songs she heard being played by the Jim Kweskin Jug Band, Geoff and Maria Muldaur, Taj Mahal (a family friend) and Ry Cooder (her first guitar teacher).
Her latest album 'Next Bus Out' pays tribute to Buffy St Marie, Eliza Gilkyson, and Memphis Minnie to name a few of her musical influences.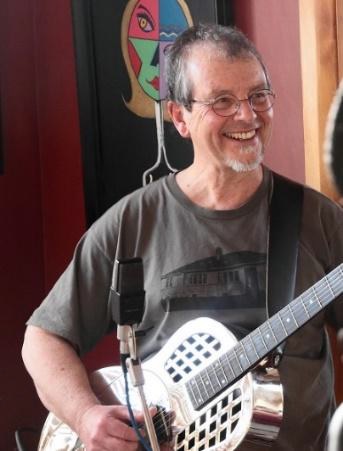 Bill Wood
Bill Wood plays tea-chest bass and dobro and adds backing vocals to the mix. Bill also has another life (but not as we know it) in the 3rd Octave Band.
He spent some time with the Bulldogs All Star Goodtime Band with Neil and is also a core member of the Wellington Heads. That's a fake goatee, he keeps the real one in a drawer at home.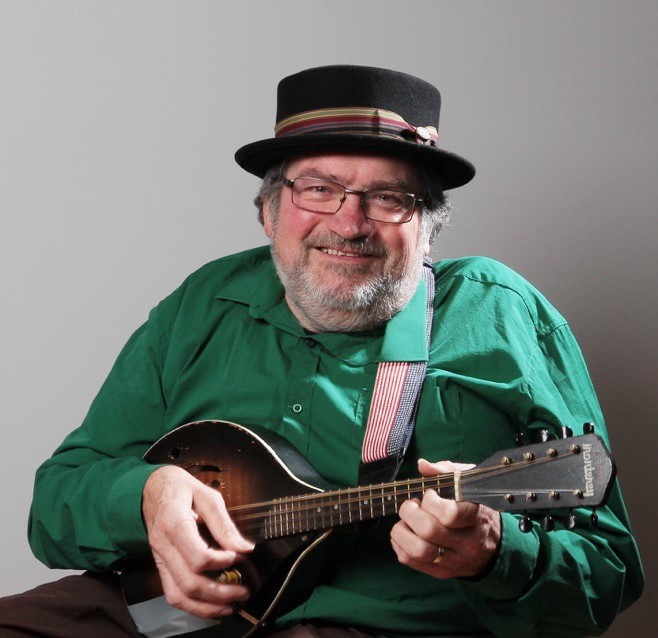 Maurice Priestley
Maurice Priestley plays guitar, mandolin and banjo in the KVMeJB. He was born and raised in Gisborne and joined the Folk Club there in the late sixties where he gained his guitar playing skills from folkies at clubs and festivals.
Maurice toured NZ in Hamilton based Climax/Red Herring in the mid-'70s, and later hit the pub circuit with Easy Street and Ha Ha Bonk from hometown Gisborne.
When he moved to Wellington in 2000 Maurice helped Neil develop some of his blues-based songs leading to the production and release of the critically acclaimed CD Some Day Soon by Neil Worboys and the Real Time Liners. Bill was also part of that project and Steve later replaced original bass player Geoff Keith. Maurice, Neil and Steve successfully toured the North Island in 2018 as The TimeLiners, a plugged acoustic version of the Real Time Liners.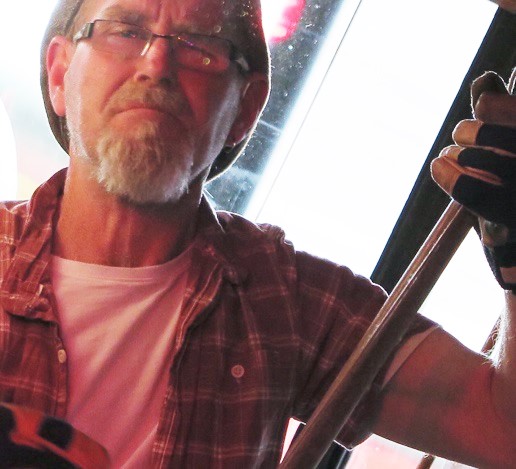 Steve Carlyle
Steve has had a long musical relationship with Maurice in various Gisborne based combos including the Trizonal Space Warpers, the Customliners, Ha Ha Bonk, and as mentioned above The TimeLiners.
As well as all these collaborations Steve has contributed his own songs to the KVMeJB.
Support Acts on the night will be...
The Folk Roots Collective
The Folk Roots Collective is a group of friends celebrating the joy of making music together; focusing on the rich tapestry of folk roots and traditional music of Europe and America.
We sing, we play tunes. We have a damn good time. We're serious about the music we make together and the songs we sing – but very little else! Seasoned solo performers, vocalists and multi-instrumentalists all, we hold traditional song and tunes dear to our hearts, but we also share a passion for contemporary song writing that reflects the folk roots tradition.
The Folk Roots Collective will touch your heart with music you can feel, with their instrumental arrangements and tight harmonies that echo inside the head, heart and soul of folk roots music.
The Folk Roots Collective is Tony Hillyard, Jude Madill, Pat Higgins and Nigel Parry.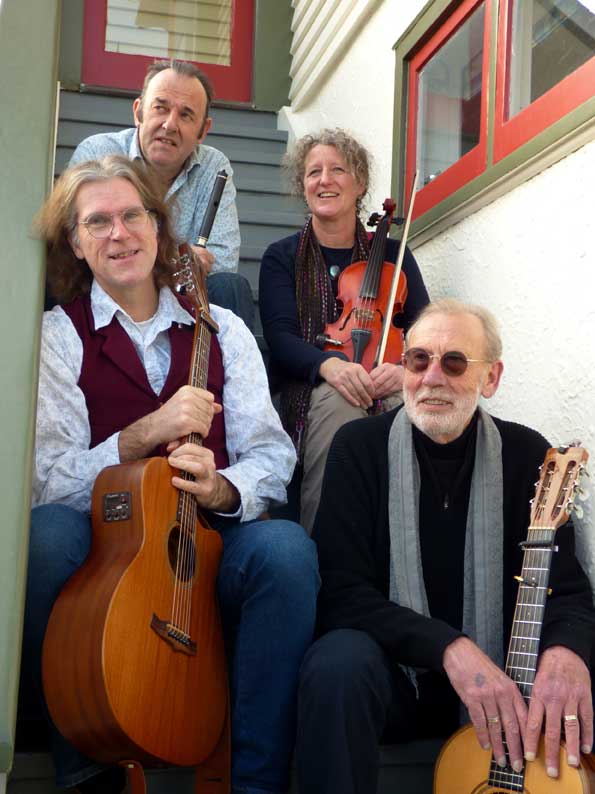 Mark Poletti
Mark is a guitarist/songwriter from New Zealand. Influenced by a range of musical styles from folk, pop and rock, he has combined his influences to create a unique style and sound, enhanced by the use of his own custom-built amplification.
Mark played in a number of bands and worked as a studio guitarist before the release of his first album, Eternity Street.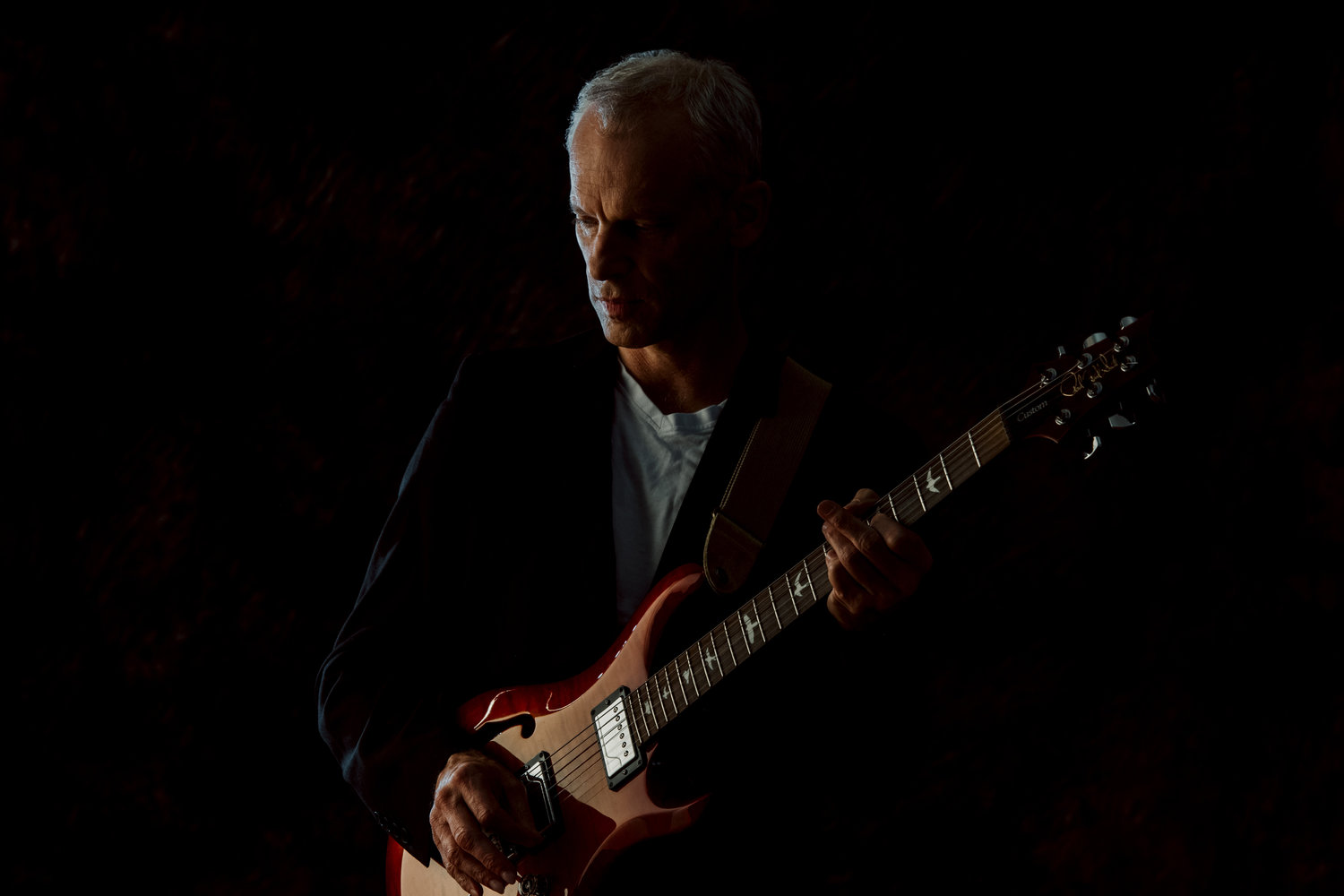 Jo Sheffield
Jo Sheffield is a singer songwriter, who enjoys singing solo and in close harmony and collaborating with other musicians. While Jo enjoys composing her own songs, mainly for guitar, she also plays mandolin and is learning the 5 string banjo.
She has wide-ranging tastes in music, from Celtic and traditional folk, Fairport Convention, through to more contemporary Americana and bluegrass ballads. Jo has recently moved to Upper Hutt from Levin, where she lived for the last 8 years.