Do you feel those toes a tappin'?
Here's the reason.
They were strutting and grooving, pumping out the hits for the "younger generation" to rock & roll when this town first became a city. Well their rhythm is as good as its ever been, the beat strong, calling all to jive, to twist and shout. With more gigs under their collective belt than they could ever count, they are up and ready to play a set of the most loved hits of yesteryear. Music that rocked our bones.
Helping to celebrate Upper Hutt City's 50th Birthday Bash, Mainly Acoustic presents one of the Hutt Valley's finest ensembles TONIC as main guests for their Tuesday November 8th show at the Mayfair Café 116 Main St. UH.
A shared love for a certain kind of music and its performance drew these rocking "Live Wires" together. Over the years, Stephen Ladányi has lent his soulful voice to rock bands, barbershop quartets and now more recently into musical theatre roles.
Evergreen singer/guitarist Gary McFadyen, has played professionally in many local bands over a number of years. His depth of musical experience and entertaining stage persona go hand in hand and make him the perfect anchor for this band.
Carol McFadyen is also no stranger to Hutt Valley stages, having prominent roles in numerous dramatic and musical theatre productions.
Finally singer/actor Robyn Trail is a true performer and has been part of several music theatre productions and revues. Currently based in Christchurch, she loves returning to Wellington for "Tonic gigs" and performing the group's eclectic repertoire of acoustic rock ballads.
Using its collective talents, Tonic enjoys putting its own creative stamp on memorable melodies and harmonies from the 1950s to the 1970s, taking audiences back to songs they love hearing.
The show starts at 7.30 with local musicians. TONIC will be rocking and in the groove, taking a walk down memory lane from 9pm.
It's going to be another super night at the Mayfair.
Next month is our last show of the year (Yes. Hard to believe)
It's going to be a cracker
Entry for that will either be gold coin or free entry
It will have a distinctly Christmas flavour, inspirational theme, songs/stories/poems of goodwill etc.
We invite anyone wanting to contribute to the show to contact us and book your spot
Email: info@mainlyacoustic.co.nz Ph 970 4008.
More on that next month.
Bruce Young and John Pringle
Bruce Young & John Pringle are local boys who play acoustic blues. The guys borrow from a bunch of influences ranging from the original traditional blues players through to Eric Clapton, Stevie Ray Vaughan, Tommy Emmanual and … well you get the picture.
They've performed for us on several occasions and they're a joy to watch.
You're going to love their arrangements so welcome back fellers, good to see you again.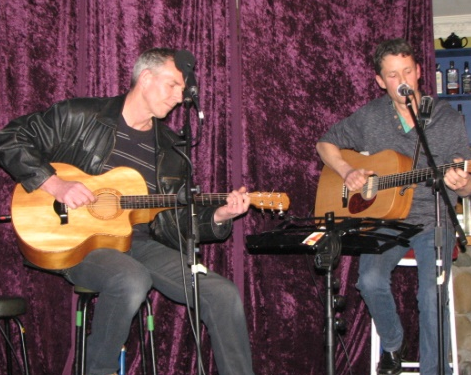 Portable Panic
Jenny Kilpatrick and Tony Rickets aka Portable Panic. Delectable ditties and gentle tongue-in-cheek humour are their hallmark.
Tony is an award winning songwriter and together with a swagful of songs from other NZ songwriters they admire, they're more than likely to extract a few chuckles and smiles from their audience as they cover things close to kiwi hearts.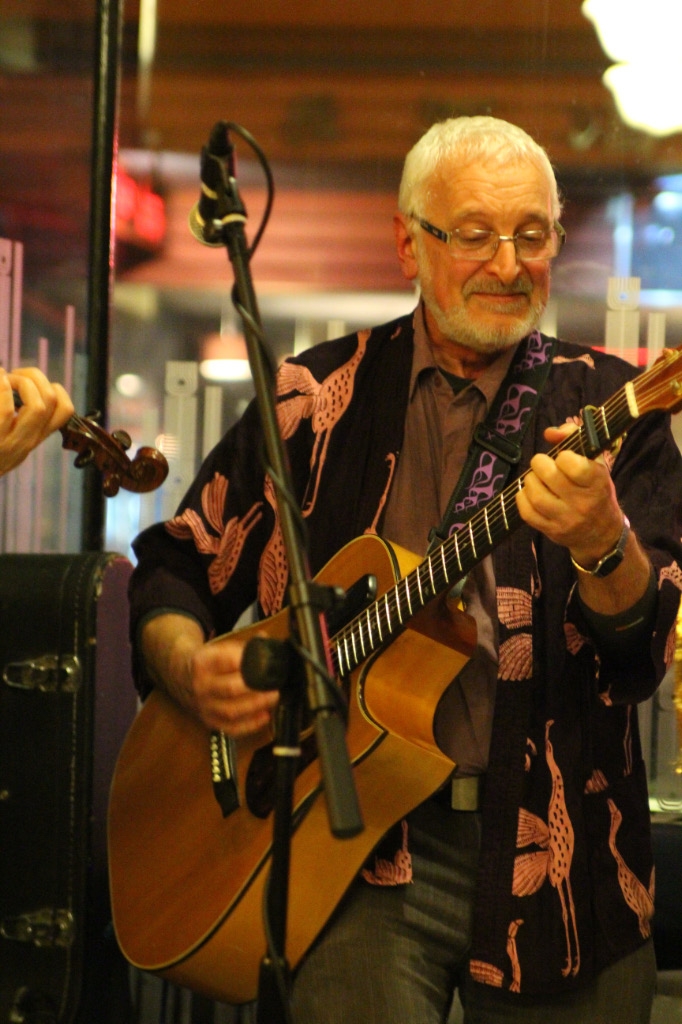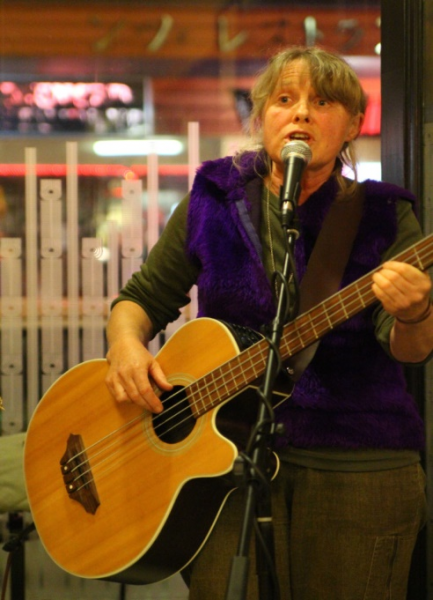 Niels Gedge
Finishing the last 30 minutes of the first half is Niels Gedge, a Wellington-based singer songwriter and fingerstyle guitarist. Niels performs in acoustic music and folk clubs, pubs, cafes and public events throughout the lower North Island and, increasingly, in other parts of New Zealand. It's the start of his North Island tour and we're pleased to be part of that and wish Niels every success. May it be filled with much joy and aroha.
Like his rich voice, his songs reflect a deep grounding in country, folk, blues and gospel styles, and an evening with Niels might range from Robert Burns to Tracey Chapman, to Hank Snow, as well as his own songs. Many of his songs draw on the landscapes of Aotearoa/New Zealand to tell stories of life and the echoes of lives past. Niels most recent CD "Maui's Whale" aired favourably on National Radio will also be available.
"It's a really enjoyable CD full of beautiful playing and personal yet universal songs that draw on timeless traditions of gospel, folk music and blues" - Nick Bollinger, NZ Radio Broadcaster and Music journalist.