Tue. November. 9th 2021 Carol Bean Band, Ain't Superstitious, Jo Sheffield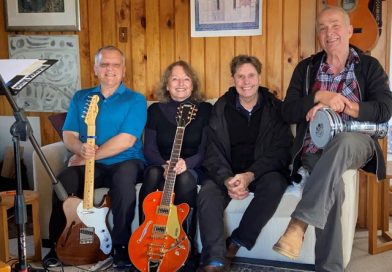 Carol Bean Band
A crossroads where four different styles merge together, then continue as one. They play mix of Americana Blues and Country with a heavy helping of original songs, stylish instruments, and groovy rhythms.
CAROL BEAN guitar and vocals
You've certainly heard Carol before. She has entertained Wellington music-goers over the last two decades with her blues-based bands; Blue Highways, Mt Misery String Band, Clean Getaway and now, The Carol Bean Band.
An English girl, she grew up in California and was influenced by the West Coast music of the 60s. She hung out at McCabe's, The Ash Grove, took guitar lessons from Dave Cohen, Ry Cooder, and with Ry's help bought herself an old 0021 Martin, which she has carted around the world and is still her go-to axe.
With 3 albums out, she continues to write songs, play in duos, (with Nick Swan, Jack Mackenzie, and Robbie Duncan), and is a member of Wellington's cheeky KVME Jug Band who have played Mainly Acoustic in the past.
COSTA BOTES guitars/banjo
Costa is a veteran independent film-maker with several award winning short films and feature length documentaries to his credit, including the notorious 'mock doc', Forgotten Silver, which he made with Peter Jackson.
When he was younger, Costa wanted to move his fingers really fast. Now he just tries to put them in the right place, song by song. For this gig, he will be playing a little bit of banjo, and a lot of guitar.
ANDREAS LEPPER percussion
Besides his focus on facilitating and conducting sessions with people marginalized by mental illness, intellectual and/or physical disablement, youth, performing arts, and corporate carriers, Andreas has been a performing, recording, initiating, & managing percussionist, mainly around Cook Strait, since his arrival from Europe in 1982.
Many genres have affected him especially Caribbean, South American, and Balkan rhythms.
GEORGE PACKARD bass
George Packard has been a professional musician for many years. He was a music tutor on Whitireia Polytechnic's Music Programme for over 25 years.
In his music career of over 40 years he has played extensively in many Wellington groups, appearing a number of times for the Wellington International Festival of the Arts. George has undertaken national tours for Chamber Music New Zealand and backed overseas artists in New Zealand. His playing ranges from classical to jazz, to Latin, to ethnic fusion to Americana and country. He believes at a fundamental level that music is about human beings making sense of the world and themselves, and about helping heal the world.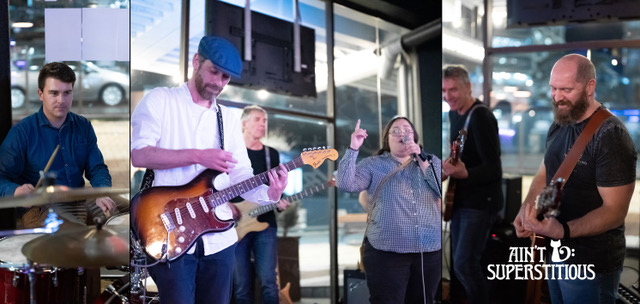 Ain't Superstitious
Hailing from the Hutt Valley & the Kapiti coast, Ain't Superstitious play a mix of blues/soul/jazz/ and roots based music. They've performed at Mainly Acoustic a couple of times already.
The band started out with Erena, John & Andre. Ain't Superstitious formed as a proper band about 3 years ago.
John is the main songwriter. He'll bring a song along to band practice and he auditions the raw song to the band. The band pitch in with ideas to make it a band song.
Never happier than when working up old blues, jazz & gospel numbers, Ain't Superstitious love to expose people to lesser known material in their own style. They have a passion for creating quality music and love the positive interaction with the audience that it provides. They are loving what we do and want to keep on doing it.
Jo Sheffeld
Jo Sheffield is a singer songwriter, who enjoys singing solo, and in close harmony while collaborating with other musicians. While Jo enjoys composing her own songs, mainly for guitar, she also plays mandolin and is learning the 5 string banjo. She has wide-ranging tastes in music, from Celtic and traditional folk, Fairport Convention, through to more contemporary Americana and bluegrass ballads. Jo has recently moved to Upper Hutt from Levin, where she lived for the last 8 years.