Nigel Parry: a leading folk voice from Wellington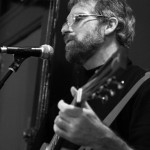 Nigel Parry is rapidly becoming an established player around Wellington, bringing his strong, mellow voice and sympathetic guitar sounds to songs old and new, traditional and his own compositions.
A recent review of a showcase concert said; 'Nigel Parry's closing set was a delight – a nicely balanced selection of songs, beautifully sung and played and enhanced by some very accomplished accompanists: Julian Ward on guitar, Philippa Boy on ocarina and hurdy gurdy, and Niels Gedge and Sue Rose on backing vocals. James Taylor's 'Millworker' got an airing, and Alan Taylor's 'Roll On the Day', but the highlights for me were Nigel's own songs. 'Ship of Dreams', with Julian's harp-like guitar backing had its first public performance and 'The Road is Long' was given the full, rich acappella treatment. I can see that one becoming an old friend at singarounds.'
Nigel plays solo, with other musicians, and combines with Carol Shortis in traditional folk a capella duo Nipperkin Pipperkin.