Hi everyone, well that was some night with Winter Wilson wasn't it? True to their reviews they dished up a bagful of terrific songs in glorious unfaltering harmony and entertained in a humongous way. With much humour their onstage on-going Domestic act (was it an act) was laugh out loud funny. I'm very glad to report that climbing into their camper van the next morning they said "We'll be back." Just like Arnie.
So how do we follow that sublime performance for our 2nd show of the month? Well, we have just the man.
Colum Sands http://www.columsands.com/ is an Irish singer/songwriter and storyteller. Yes another international act and believe us when we say "He'll charm your socks off with a lovely lilting voice and his wonderful songs that tend to get to the very heart of the matter, be it humorous, or devastatingly sad.
A member of the internationally renowned Sands Family from County Down, Colum established his reputation as a songwriter with the release of his first solo album, Unapproved Road in 1981. Songs like Whatever you say, say nothing, and Almost every Circumstance were soon in the repertoire of artists from Billy Connolly to Maddy Prior and June Tabor.
He first toured Australia and New Zealand in 2006. It was a huge success and was followed by a further visits in 2007 and 2009 with appearances at all the major festivals and in venues from Perth, Melbourne and Canberra, to Tasmania and Mount Isa.
He has performed in over thirty countries, confirming the universal appeal for the songs and stories with which he observes the minute and often humorous details of life.
On his travels around the world he soon discovered that many of his songs had arrived before him, carried by other singers and in recordings by fellow performers like Andy Irvine, Tommy Makem and Liam Clancy, Roy Bailey, Mick Hanley, Enda Kenny... the list goes on and on.
Colum's 9th album, Turn the Corner. was released during the 2013 Fiddler's Green International Festival and since then many of the ten original songs including "Annie I owe you", "Lazy Hill", "The Glassmaker's Hand" "Two Angry Dogs" and the title track, have become firm favourites with audiences around the world.
It takes very little time to come under the spell of his songs. Within his gentle lyrics lies a surgeon's scalpel and his melodies, they sit easy, are deliciously infectious and addictive. True rhythms of life.
Take a little time, sit back and listen to a song or two and we'll see you at the Mayfair for this gem of a concert.
https:// soundcloud.com/colum-sands/beyond-the-frame
https:// soundcloud.com/colum-sands/michaels-orchard
Philippa Boy and Sue Rose
Philippa Boy & Sue Rose have performed as main guests in various ensembles. As a duo they are something we've yet to experience. We do know that they sing together rather well and with the aid of a hurdy gurdy and a dulcimer we're in for something special – Sock it to us!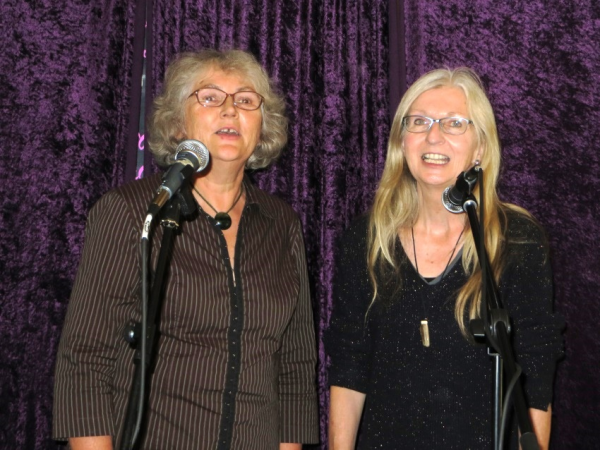 Chris Brown
Chris has played several times at the Mayfair over the years and always delights with his choice of folk/country songs and his well matched guitar playing.
Covering songs from Cat Stevens, Crosby Stills & Nash and their peers, is something we're looking forward to.
Cheers, Chris!