April 13th 2021: Gillian Boucher & Bob McNeill + Supports
Some things come round again. Bob first met Gillian when the world was young – well, in the early 2000s – when they played some shows in the South Island. Gillian, an exceptional fiddler from Canada's Scottish-infused Cape Breton Island, and Bob, an acclaimed songwriter and guitarist originally from Scotland, were a popular duo, with an obvious musical connection, but couldn't be bothered doing anything about it.
They bumped into each other a few times over the years, but managed to avoid playing a single note, finally regrouping in 2016 when they found themselves living on the same landmass less than an hour's drive apart. Conditions were perfect; they both now had complicated lives and were far too busy with other projects to be able to focus on a new duo.
The old musical connection was still there and they immediately decided to quickly record and release an album; Race for the Sun, in late 2019, having taken less than 3 years to get onto. During this time they toured New Zealand twice and played festivals in NZ and Australia. In October and November 2019, they took Race for the Sun out on the road, embarking on a tour of Canada, New England and Oregon, bookended by appearances at Celtic Colours International Festival in Nova Scotia, Canada, and Yachats Celtic Music festival in Oregon, USA.
Gillian's fiddle style is unique, blending the music of her ancestors with contemporary sounds. Paired with Bob's innovative, rhythmic accompaniment and powerful lyricism, they present a dynamic yet sensitive acoustic duo that captivates any audience.
And here are this month's support acts
Sage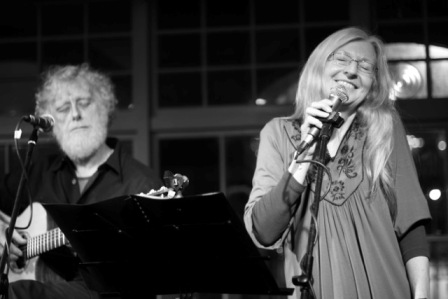 Sage are Sue Rose [vocals] and Murray Kilpatrick [vocals, guitar] Sue's soprano voice, and Murray's baritone voice weave magic, supported by Murray's adept finger-style guitar playing [on an instrument that he made himself, no less!]. They perform a variety of their favourite songs from a mix of genres such as Celtic, Kiwi Folk, Jazz/Blues, with the odd Latin number and a couple of originals.
Sue & Murray have been performing together in one form or another from duo to band, for 20+ years - most recently as SAGE. Sue is also one half the duo Simple Gifts, and Murray is the current president of Acoustic Routes, for which he was a founding member.
Vince Cabrera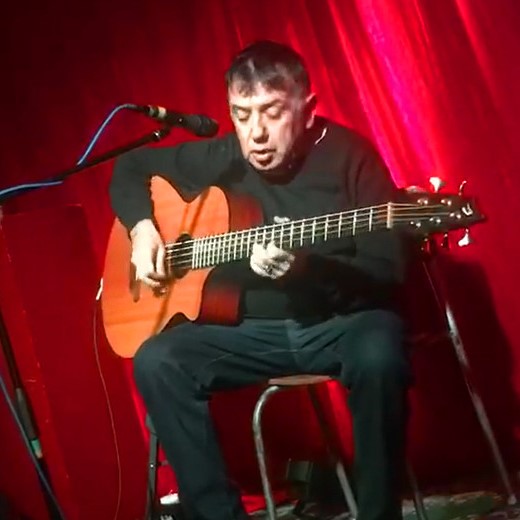 You'll probably remember Vince Cabrera, he's the guy that plays instrumental tunes on a five string bass guitar.
When people comment on his music some words like "atmospheric", "cinematic" and "lyrical" keep coming up. He has begun to be less interested in structure and more into atmosphere and mood. The comment "listening to this music takes you places" also keeps coming up.
Vince wants to showcase some new tunes that he has been working on.